The CAPSTONE spacecraft continues to operate at the Moon and the vehicle is happy and healthy. The mission has accomplished 4 mission objectives and is making progress on additional objectives. Two mission objectives were completed during the transfer to the Moon and both directly informed Artemis 1 secondary payloads with regard to radio and ground station performance.
The system has been operating in an Near Rectilinear Halo Orbit (NRHO) for 85 days and has completed approximately 12.5 orbits since arrival November 13th which fulfills a mission objective of more than 6 orbits. During this time the spacecraft has operated successfully through two lunar eclipses which present a challenge for the spacecraft thermal and power systems. Other notable events include the successful execution of 2 maintenance maneuvers to keep CAPSTONE in its desired orbit. Mission operators had originally planned to execute an orbital maintenance maneuver each revolution of the orbit, but this new cadence has been selected to help reduce operational risk and complexity. This updated operational approach maintains the required orbit phasing for the mission and demonstrates the robustness of the design strategy for these maneuvers. This design strategy has been developed by the NASA team supporting Gateway at the Johnson Space Center.
The mission team has successfully completed interface testing with the Lunar Reconnaissance Orbiter ground systems and during the first attempt to obtain cross-link measurements on January 18th, LRO received a signal from CAPSTONE but the CAPSTONE radio system did not collect crosslink ranging measurements from the returned signal. This initial attempt is informing subsequent work which will be further evaluated on upcoming attempts. Utilizing simulated measurements, the flight software for the Cislunar Autonomous Positioning System (CAPS) has been demonstrated at the Moon, a critical step in maturing functionality that will enable future missions.
Most recently the CAPSTONE spacecraft demonstrated its continued resilience by recovering from an anomaly that resulted in the spacecraft being unable to receive commands from ground operators. Beginning on January 26th the system no longer responded to commands. This issue was cleared by the on-board fault protection system as designed on February 6th and the system has returned to normal operations. Lessons learned from this anomaly will result in operational procedure changes to speed recovery from any future similar anomalies.
Following separation from the launch vehicle on July 4th, the navigation team at Advanced Space has maintained excellent knowledge of the spacecraft location in space. Through communication outages, traversing a maximum distance of 1,531,949 km from the Earth, and thruster anomalies that left the spacecraft spinning at a high rate, this knowledge has assisted the spacecraft operations team at Terran Orbital in operating through a variety of challenges. This resiliency is a testament to the CAPSTONE mission team including Advanced Space, Terran Orbital, the Deep Space Network, the Space Dynamics Laboratory, and many others.
In the coming weeks the CAPSTONE mission team will prepare for further crosslink experiments with LRO while also preparing for subsequent technology demonstrations including a new data type for the Cislunar Autonomous Positioning System (CAPS) which utilizes one-way uplink measurements enabled by an onboard Chip Scale Atomic Clock.
The spacecraft still has about 56% of its fuel remaining which will provide approximately 120 m/s of delta-v. This fuel provides significant margin to operate in the NRHO for the planned mission duration and beyond.
A fourth mission objective, to disseminate lessons learned from the mission, has also been satisfied. Thus far the mission team has published several papers specific to the mission operations of CAPSTONE in addition to those published related to the program development itself. But we aren't stopping there. Be on the lookout for additional CAPSTONE papers at future conferences that will discuss and detail all of our upcoming and exciting plans in the NRHO.
About CAPSTONE™:  CAPSTONE Press Kit
CAPSTONE™ is owned and operated by Advanced Space. It is one of the first CubeSats to fly in cislunar space – the orbital area near and around the Moon – and demonstrate an innovative spacecraft-to-spacecraft navigation technology. The mission launched on June 28, 2022. Critical partners in the CAPSTONE mission include: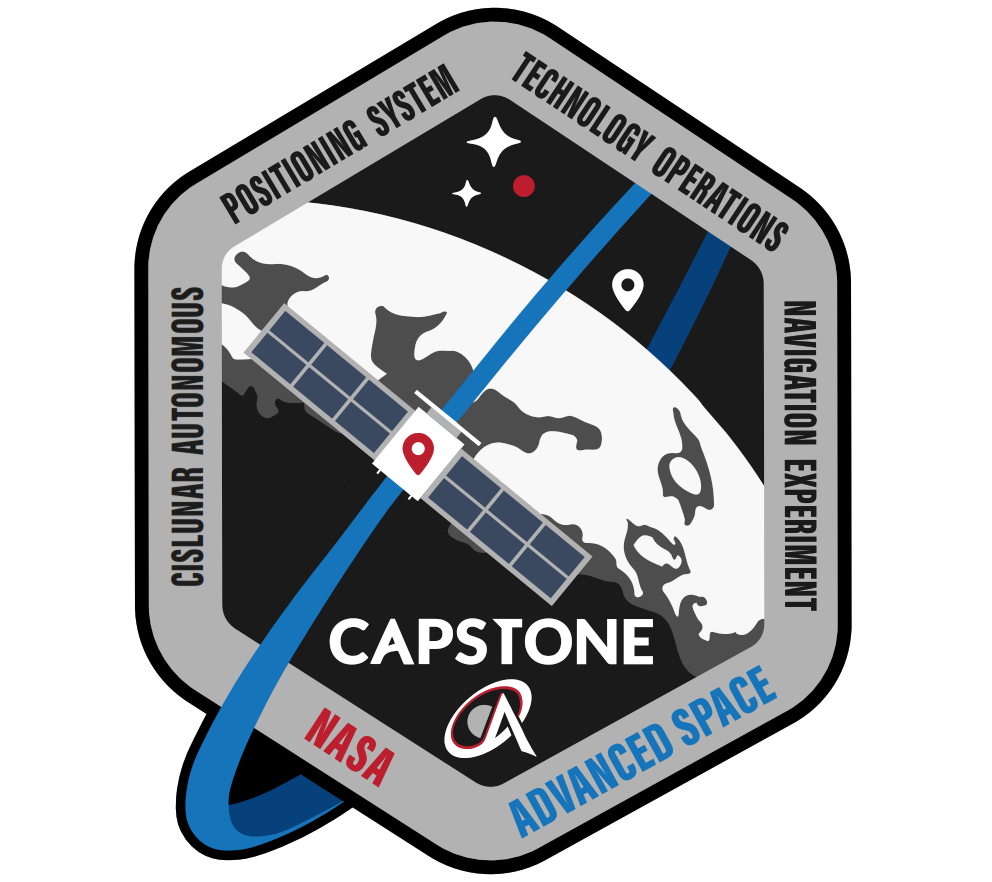 NASA: CAPSTONE's development is supported by the Space Technology Mission Directorate via the Small Spacecraft Technology and Small Business Innovation Research programs at NASA's Ames Research Center in California's Silicon Valley. The Artemis Campaign Development Division within NASA's Exploration Systems Development Mission Directorate supported the launch and mission operations. NASA's Launch Services Program at Kennedy Space Center in Florida was responsible for launch management. NASA's Jet Propulsion Laboratory supported the communication, tracking, and telemetry downlink via NASA's Deep Space Network, Iris radio design and groundbreaking 1-way navigation algorithms.
Terran Orbital Corporation: Spacecraft design, development and implementation, hardware manufacturing, assembly, testing and mission operations support.
Stellar Exploration: Propulsion subsystem provider.
Rocket Lab USA, Inc.: Launch provider for CAPSTONE on a three-stage Electron launch vehicle.
Space Dynamics Lab (SDL): Iris radio and navigation firmware provider.
Orion Space Solutions (formerly Astra): Chip Scale Atomic Clock (CSAC) hardware provider necessary for the 1-way ranging experiment.
Tethers Unlimited, Inc.: Cross Link radio provider.
Morehead State University (MSU): Operates the newest "affiliated node" on the NASA Deep Space Network (DSN). Providing telemetry, tracking and control services for NASA and commercial space missions and to engage university students in deep space mission operations.